Product Features
This is the CAP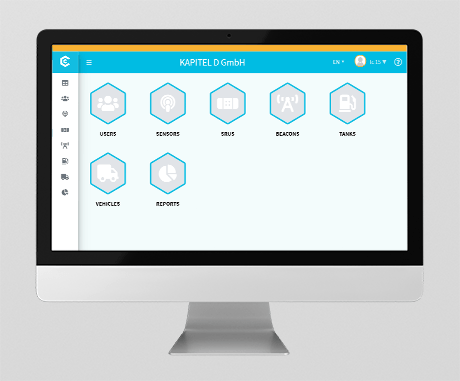 Cipacto Application Platform CAP
CAP is our web based administration and information platform. It offers multi-lingual and multi-client capability and an elaborate rights and role system.
Based on the right and roles system, every permission for  users, vehicles and machines (devices) and tanks can be set and edited individually.
CAP connects with the Cipacto App. All refuelling and tank refilling data can be seen and analysed on every level.
Our open application interfaces allow the integration of basically every standard and non-standard software.
CAP Key Benefits
Here are some key information about CAP
Web based
CAP is a web based application for administration and detailed information that provides access wherever you are, at any time.
Permissions and rights
Set and manage administrative and functional permissions on company and on individual level.
Add and manage everything
Via CAP you add and edit users, vehicles and machines or other devices, and tanks to your system.
Reports
CAP provides instantaneous information about liquid consumption over time, current filling levels, and consumption by tank, user, device, e.g.
Analyses
The Analysis section provides in-depth- information concerning all refuelling and tank refilling activities.
Alerts
Set indvidual tank refilling alerts. Information are sent via e-mail and SMS to assigned recipients. The alert shows in CAP, too.